RSB Packet for August 22nd, 2022 Meeting is posted under Regional School Board link. Meeting starts at 6 PM.
Job Vacancies: Tok School Cook I, Tok School Cook II, Tok School Teacher's Aide PreK, Teacher's Aide Pathways, Tok GAP Site Coordinator, REACH Academy Secretary. For more information, check the classified job opening at AGSD.
Alaska Gateway's Summer Credit Recovery Program starts June 6th. Contact Blair at
bseawell@agsd.us
for more information or to sign up.
May 16th, 2022 Regional School Board Meeting at the District Board room - 5:30 work session/6 PM meeting. Board packet posted under the RSB link.
AGSD's annual CTE Showcase and Career Fair will be taking place May 11th, at Tok School.
Meeting Notice District-wide Indian Education Parent Committee Meeting Alaska Gateway School District Board Room Tuesday, May 10th 3pm-5pm The Indian Education Committee would like to invite Elders, Parents, Guardians, and Grandparents of Native students who attend Alaska Gateway School District to attend the AGSD Indian Education Parent Committee Meeting to develop and finalize the education plans for next years Indian Education Program. Attendance will be in person or zoom.
https://us02web.zoom.us/j/84435783063?pwd=ZjQ3cDQ1MFpTYUFhdldzN1ZPVStEQT09
Elementary Book Cafe family night April 28th 5:30- 7:00 PM at the Tok School Library. Come join the fun!!
Book Tasting Family Night Tonight 4-21 at 5:30 PM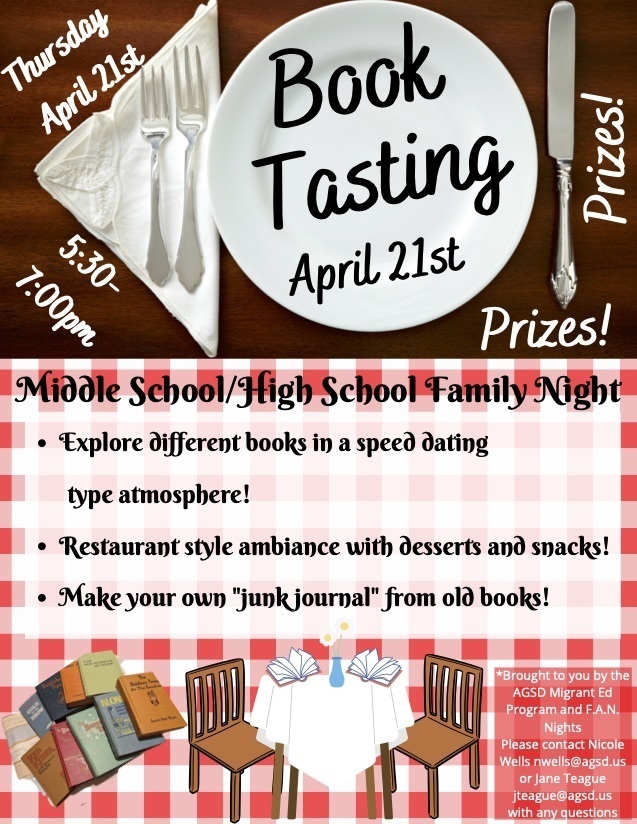 Join us in Tok School library at 5:30pm on Thursday 21st April for a fun Literacy night for older students at Tok school.
The board packet for the April 18th board meeting is posted under the RSB link. Work session is at 4:30 and the meeting is at 5:00 PM.
Students and families of Tok Middle School and High School join us for Grossology family night tomorrow night Wednesday 13th April. Sign in at 5:30pm in the library at Tok School. We hope to see you there!
Please assist AGSD staff by completing a brief survey in order to plan for quality summer camps. You can click on this link:
https://bit.ly/Tokcamp2022
See the flyer for more information.
Announcing the AGSD Summer Credit Recovery Program taking place at Tok School from June 6th to July 1st. Open to all AGSD High School students who are behind by one or more credits. Contact Blair at
bseawell@agsd.us
for more information or to sign up.
Annual Indian Education Survey Parents & AGSD staff-please take a few minutes to complete this survey. Results will be reviewed and taken into consideration when planning next year's educational program. If you complete the survey and provide your name you will be entered into a drawing for a $100 gas card.
https://www.surveymonkey.com/r/89SXJL2
Join us next week on Wednesday 23rd of March for Tok Middle School and High School Family night and escape the school. Dinner provided from 5:00pm, activities start at 5:30pm. We hope to see you there!
February Counselors' Newsletter!
Dear Migrant Program Parents/Guardians and Staff, The Alaska Migrant Education Program is conducting our annual survey to help identify the greatest needs of Migrant students that result from frequent moves and interrupted education. As a parent/guardian OR as a staff member working with Migrant students, we value your opinion. Please go to link for Survey:
https://5il.co/15n9v
Thank you for supporting your Migrant Education program - we appreciate your time!