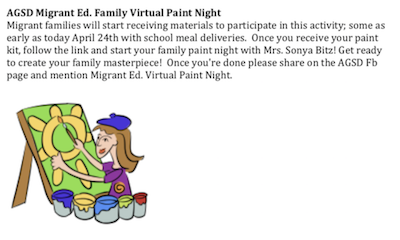 Calling ALL AGSD Parents! We want your input. Please let us know what is going well and what we can improve with Gateway After-School Programs (GAP)! Please take a minute to complete this short survey and your family could win a family activity fun night kit!
https://forms.gle/5LHWABnrzD61P97AA

The GCI call in number for the boardmeeting tonight is: 1-800-315-6338 - Access code: 51511#

RSB Packet for 4.20.20 Board Meeting is posted under the RSB Link The meeting will be via zoom. Work session at 5:30/Meeting at 6 PM

Annual Indian Education Survey Parents & AGSD staff-please take a few minutes to complete this survey. Results will be reviewed and taken into consideration when planning next year's educational program. If you complete the survey and provide your name you will be entered into a drawing for a $100 gas card.
https://www.surveymonkey.com/r/IndianEd2020


Parents - are you interested in getting your children access to their online learning programs from school? Email
onlineprograms@agsd.us
with your child(ren)'s first and last names, and we'll reply to your email with attachments of their login info and links to their programs!

Please be expecting a survey call from us so that we can gather information for distributing meals and instructional materials! Once we have this we can plan, and get you more specific information about implementation. Thank you!

Regional School Board Special Meeting - March 17th at 2:30 PM. Agenda Coronavirus. Call in Only.

PER EXECUTIVE ORDER OF GOVERNOR DUNLEAVY, ALL SCHOOLS IN ALASKA, INCLUDING AGSD, ARE CLOSED UNTIL MARCH 31, 2020

March is Alaska Arts Education Month!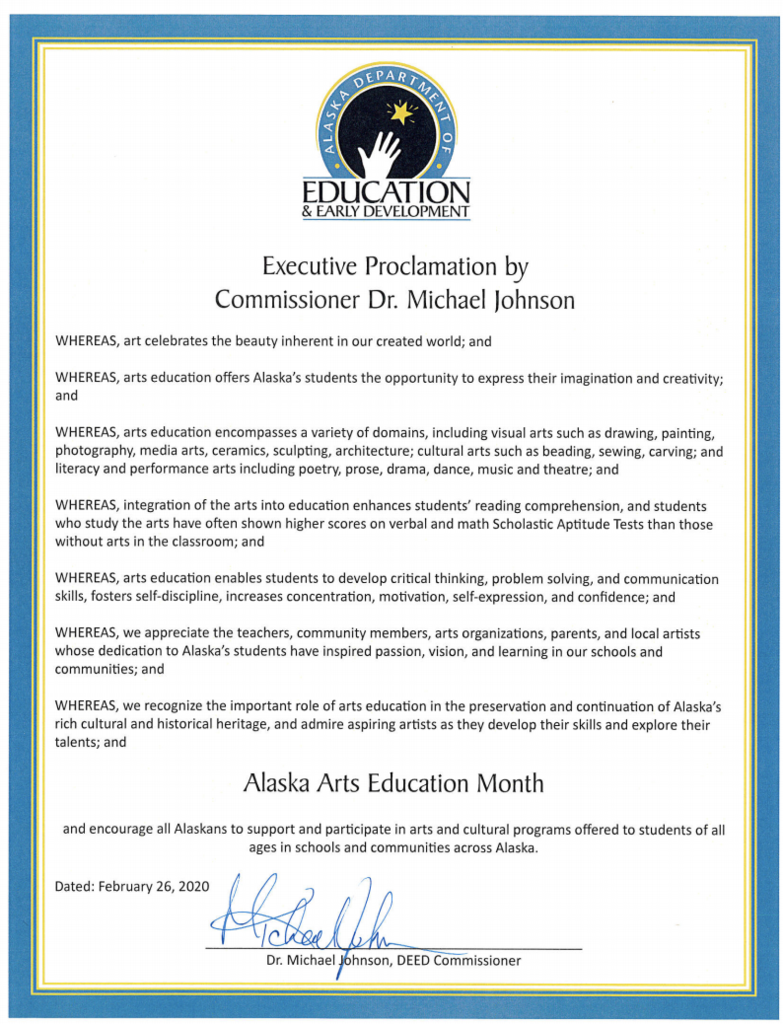 AGSD Senior Night - April 14th at 5pm at Tok School. For all AGSD seniors and their parents - a night of food, fun, planning for graduation and beyond! Out of Tok families will be reimbursed for mileage!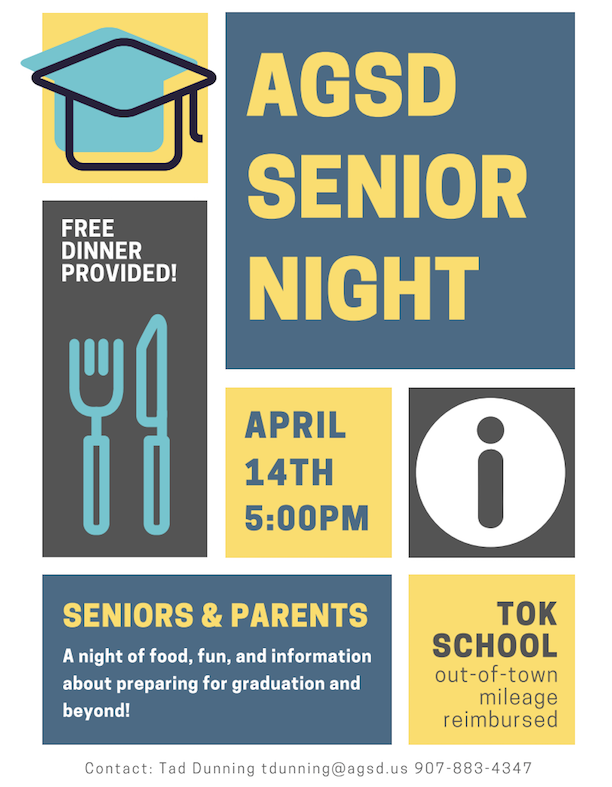 Alaska Gateway Students are eligible to apply!
http://geoforce.alaska.edu/
GeoFORCE Alaska is an outreach program at the University of Alaska Fairbanks for rural high school students from the North Slope, Northwest Arctic, and Interior. Students are recruited in 8th or 9th grade and travel around Alaska and throughout the country to learn about geology and career paths in the geosciences.

Tanacross School's Family Activity Night will be next Tuesday the 25th. It's Science Night, with special guests from UAF joining us for lots of activities with SNOW! Dinner will be provided! Come join us!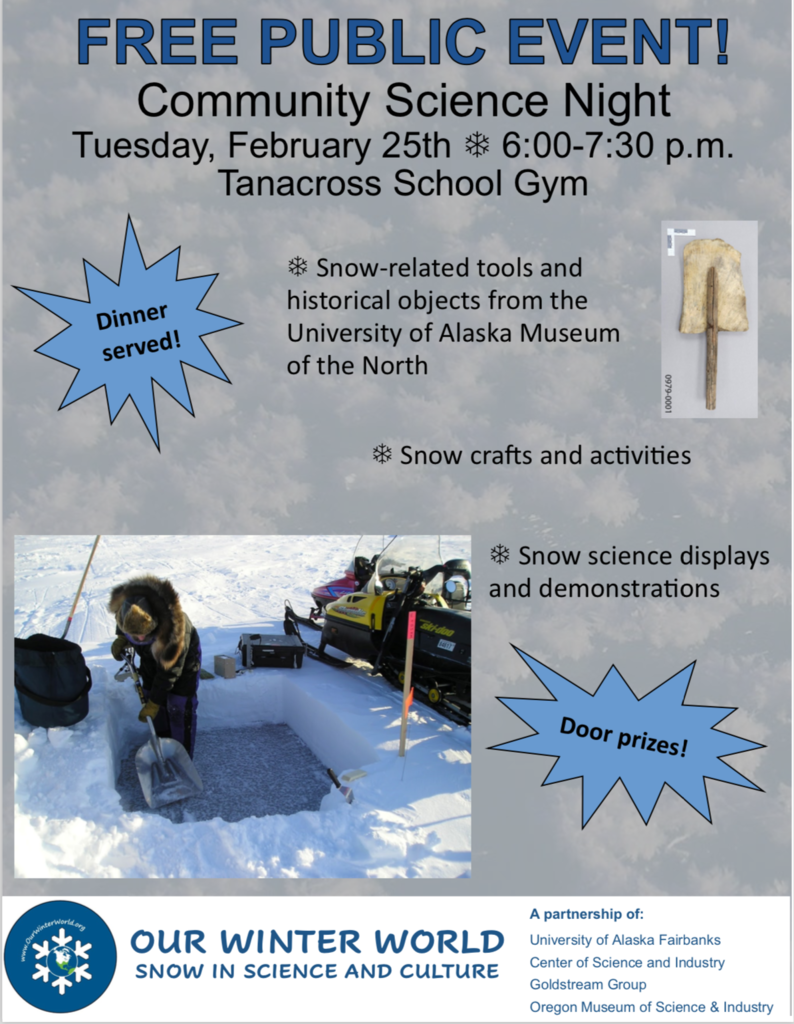 The Tok School Advisory Board will meet at 6pm on February 18th in the Tok School Library. Please see the attached agenda.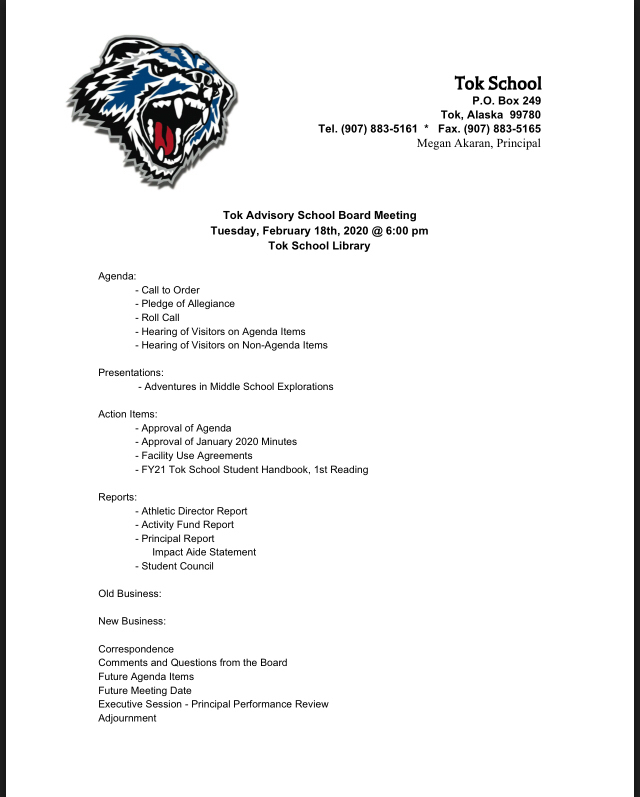 Migrant families, please take a minute fill out this survey so that AGSD can understand how best to meet the needs of your child/ren. A link to this survey has already been sent to your email, so if you have received that you can use that link. One survey per family please - THANK YOU!
https://www.surveymonkey.com/r/PJR3FK6

RSB Board Packet for February 17th, 2020 Board Meeting/Work Session is posted under the RSB link. Worksession at 5:30/Meeting at 6 PM

Join us for Community Ski tomorrow from 3-5! SKIKU movie and popcorn to follow! ALL LEVELS! BRING THE WHOLE FAMILY!!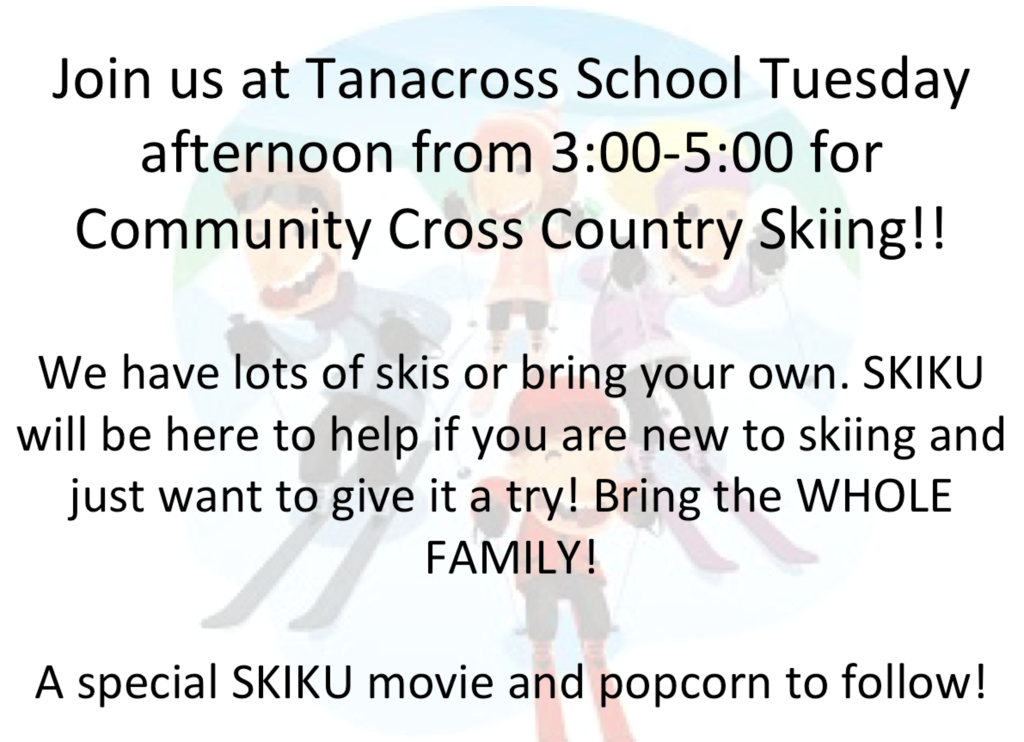 Come join us tonight for Tanacross Family Fun Night - Literacy Night!