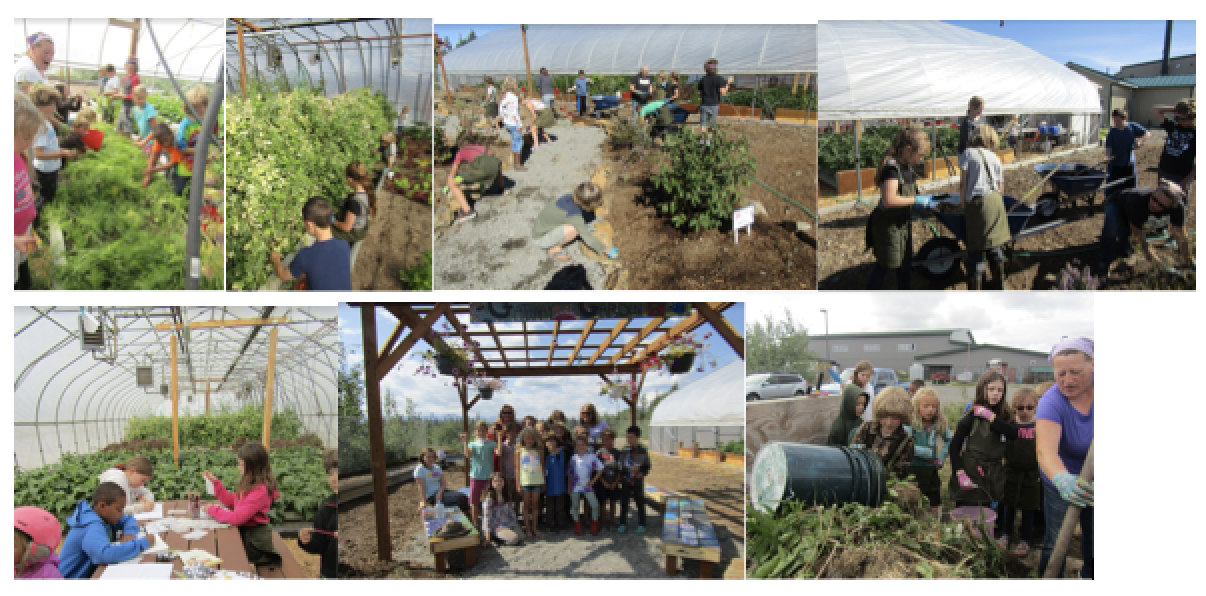 Gateway Greenhouse:
The Gateway Greenhouse facility was originally built as a means to supply the district's food service program with fresh produce. However, it has grown into much more, and is now integrated into district programs and curriculum in a myriad of ways.
Since 2016, it has hosted Tok School's greenhouse courses, which in 2018 morphed into FFA related courses with the district's new FFA charter. Greenhouse education has grown to include hydroponic gardening as well. The greenhouse is regularly incorporated into the high school's culinary class.
Last year, the district purchased a Charlie Cart for use in the elementary school, as a means to make the culinary "bridge" that helps to bring greenhouse education into the elementary classrooms. The cart now travels to the district's outlying sites for the same purpose, and plans are underway to acquire another cart for Tok. (See slideshow at the bottom of this page for more info). *See our kids featured on Charlie Cart's Instagram page!
In summer 2018, the district held its first week-long greenhouse day camp for elementary students. The camp was a success, and was so popular, it is repeating in summer 2019 and will run for a longer time.
Gateway Greenhouse Student Class Blog
Tok High School Culinary Class Blog- students regularly utilizing the bounty of the Gateway Greenhouse
Gateway Greenhouse is a USDA Farm to School "One in a Melon" Award Winner for 2016!
Gateway Greenhouse - in the Fairbanks Daily News Miner
October 2020-DEED Spotlight on the Gateway Greenhouse, Alaska Gateway School District
A collection of online lesson plans for School Gardens - various grade levels, includes plans for school gardens, school kitchens, classroom kitchens, nutrition, and more.
Farm to School Network http://www.farmtoschool.org/
Edible Schoolyard resources and lesson plans http://edibleschoolyard.org/
For specific resources curated for Gateway Greenhouse within the Edible Schoolyard Network, go to the Libraries tab at http://edibleschoolyard.org/program/gateway-farm-school-project