Tanacross Culture Week begins today!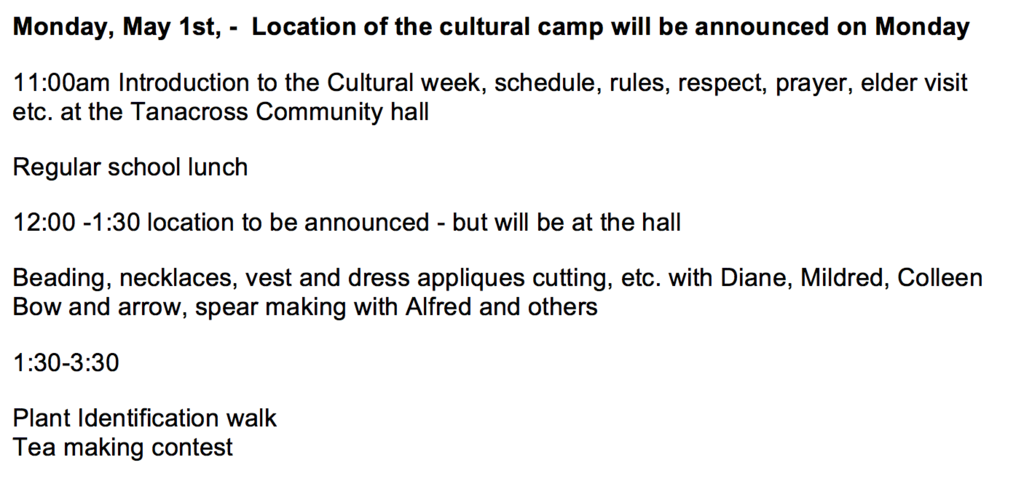 Wrapping up Tetlin's Culture Week today with a potlatch for Tanacross & Tetlin students and community! It's been a great week of activities. More next week when Tanacross Culture week begins!
Don't miss the culminating events for Tetlin School culture week! Today 7pm-Athabascan Fiddler Demonstration Thursday-2pm Potlatch Begins

SO many great things happening in our schools! Be sure to check out our News Feed on the app or the website!

Learn more about our Variable Schedule for next year! Check out an informational video here:
https://youtu.be/BcMKkEAJk4Y
and visit the agsd.us website under Variable Schedule for more info!

Please see longer live feed message below regarding incident at Tok School this afternoon - thank you

There was an incident at Tok School today involving a student who brought an air gun to school. The Troopers were called and quickly assessed the situation. Safety protocol was followed to ensure all were safe. As a reminder, Tok School has very strict policies regarding any kind of weapon on school grounds. Parents, please remind students of the dangers of bringing any kind of item to school that could be perceived as a dangerous weapon. If you have any concerns regarding this incident, please call Scott Holmes at 907-512-7583.

Have you head about the new Variable Schedule concept? Exciting news for our school! on the district website, under the menu, go to the Variable Schedule section for more info!

Eagle teacher Marlys House recognized as BP Teacher of Excellence! Congratulations Marlys & Eagle Community School!

Graduation dates and times are posted! See the calendar button on the app or website for dates and times for all schools graduations!
The Tok/Barrow 12U Hockey Team is Tier IV State Champions!

The Eagle Pups won the first grade Battle of the Books today. Team Eagle was composed of: Jude Shangin, Flora McDougall, and Bryce Sharpe. Way to go, Pups!

Culture Week events at Tetlin and Tanacross Schools this spring!
Reminder: Meet the principal candidate for Tok School and Northway School tomorrow! 8am-9am in Northway for breakfast and 12-1pm in Tok for lunch!
Meet the Tok School Principal Candidates * Monday, March 20th * 12pm-1pm * Tok School MPR * Lunch Provided
Meet the Northway Principal Candidates Monday, March 20th 8am-9am * Northway School * Breakfast Provided
AGSD Elementary Science Fair Awards: 1st Place: Bang! by Marco, and Rebecca Runners Up: Zap! by Abagail, Sara, Asasha + Riser! By Holly and Josh
AGSD Secondary Science Fair Winners: What Makes Honey Crystalize, by Julia, Heaven, and Christian Runners Up: Ash Snake Experiment by Timothy and Demitri + Microwaved Soap by Andi and Hannah